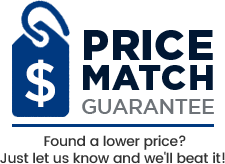 Found a lower price?
Just let us know and we'll beat it!
We wont be beaten on price.
Call us:
866-456-8823
and select option
1
to speak to a sales associate.
Items must meet the following criteria to qualify for our Price Match Guarantee:
The product is not a closeout, discontinued, or clearance item.
The products must be identical (quantity, brand, color, etc.)
The price includes in home delivery with setup and applicable sales tax.
The product is in stock and available for immediate shipment from the competitor.
The advertised price is from an authorized online store.
The price must be published online and written quotations are not acceptable.
Verbal price quotes are not acceptable.
Coupons cannot be applied with an item that has been submitted for price match.
The Low Price Guarantee cannot be applied to previous orders.
Due to the high shipping minimums of our superior shipping service, the price match policy is only effective for items over $899 per item.
We only compare with verified companies.
It must be done at the time of sale.
If you have any questions about our price match policy or to see if your product qualifies,
Call us:
866-456-8823.